10 Things You Will Find Only in Indian Households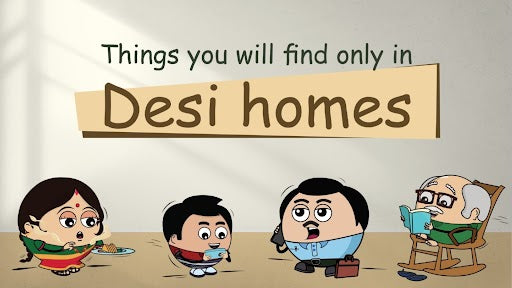 Growing up in an Indian household, we all have seen things that we usually do not find anywhere else in the world. Whether it is your old t-shirt becoming pocha or colorful plastic chairs stacked beside your vintage velvet fabric sofa set. A paayadaan at the entrance that says 'Welcome Home', newspapers being placed in order under the guest room table, a medicine box jisme medicine mile na mile zandu balm toh zaroor milegi. 
Desi homes have a completely different vibe. Let us bring you some nostalgia by showing you all the 10 'Things of Wonder' that you can only find in Indian households. Dude writer, do you even come out of that zone, ever? Khair, let's open the darwaza and enter through the verandah into the ghar, where we all have things jo salon se waisi hi hai cuz times may have changed but some things haven't. Chalo ghar ka tour karte hai!

Mummy ka Expensive Crockery Set
Mummy ke dil ka tukda ya toh aap hai ya phir her favorite set of sophisticated crockery bought for special occasions and exclusive guests ONLY! Dare you open it for regular snacking. Better be ready for dal khichdi for a week, straight!
All those Dabbas, Some Hundreds of them
What comes in the house never goes out! Especially plastic bags, ice cream containers, cookie tins, and cardboard boxes. What makes home a game of treasure hunt? These boxes, jinpe box ka naam kuch aur uske andar kuch aur. Melted to see a Chocolate fudge brownie ice cream in the fridge but when opened found imli ki chutney inside. This dhokha must have happened, we know!
The Home-made Shrine 
You enter an Indian household and do not find mandir ya bhagwan ki tasveerein, impossible. Move around the house and you will see photos of gods and goddesses or religious books that are dada dadi ke sabse qareeb.
Shoe Area
Ghar mein entry se pehle agar joote bahar nahi utare toh NO ENTRY. Every desi home has a shoe rack placed where you can put off your shoes and get inside. It is a respectful thing to do and just a reminder, do not ever bring dirty shoes inside jab safai ho rahi ho cuz mom will not take it, just saying, aage toh pata hi hoga!  
Ghar ki Shaan Kitchen se hai
Every desi kitchen is no less than a museum of vintage things. Age-old okhli, masala box, utensils, like chimta, belan, and pans of varied shapes and sizes that are being used and passed down to many generations, are what you will find in the rasoi ghar. Kitchen has always been mumma's space so why don't you bring that vibe in the space by adding quirky yet premium gifting from Indigift's Mummy da Dhaba collection.
Vintage D
ecorative
Whether it's a yearly calendar which has mishthan bhandar se leke shoe brand ka advertisement printed on it or a vase being kept at the side table having plastic-made flowers, a desi home will have all these things that might not be in the trend today par majaal hai jo aap inhe fek do. Do you not fear mummy ki aankhein? Just saying, you can always add on some new crafty things like a wall frame or a table top  as well par mummy se puch lena.                                                                                                               
Mugge mein Mugga?! 
Bathrooms are the most desi sight one can find in a desi household. Despite having the modern facility, bina bucket aur mugga ke kaam nahi chalta hai. How to use things at their dead-most is what we Indians know, ache se! Toothpaste pe apna pura zor aur purani soap pe nayi soap ko rakhna to use it some more, how can we desis not do it?! 
Plastic
W
rap
A
lways
O
n 
Do you know why things last too long in an Indian household? Because they are never unpacked! Jo chiz jis condition mein aayi hai woh waise hi rahegi. Remote - plastic covered, sofa set - plastic covered, car ki seat - plastic covered, a new suitcase - plastic covered. Aur thoda bhi plastic hata, durghatna ghati! 
The
G
eneration-old
D
iscovery
Ever wondered what is being kept in those upper cabinets? Purani sandook which we call treasure trunk. Now don't ask what is being kept in those petis because ye raaz hi hai as no one ever puts their effort in bringing them down. Not just that, you will always find giant steel almirahs and old chest drawers jo lagte vintage aur sundar hai. 
Old is Gold 
There are always things in a desi ghar jo chahe kitni bhi purani ho, ruk ruk kar hi sahi kaam toh kar rahi hoti hai. Like a sewing machine, bhari bharkam iron, aur generator jaisi aawaaz karne wala grinder which grinds the brain more than what is put inside it! 
Waise ghar mein chahe kitni bhi vintage decoratives kyu na ho, there is always some space to bring a dash of funkiess in the room and what is the better option than buying it from the home decor collection of Indigifts, jahan sabbb milega. Hey but remember, DO NOT TOUCH purane samaan!