Being Good to Yourself - A Guide to Self Love & Self Care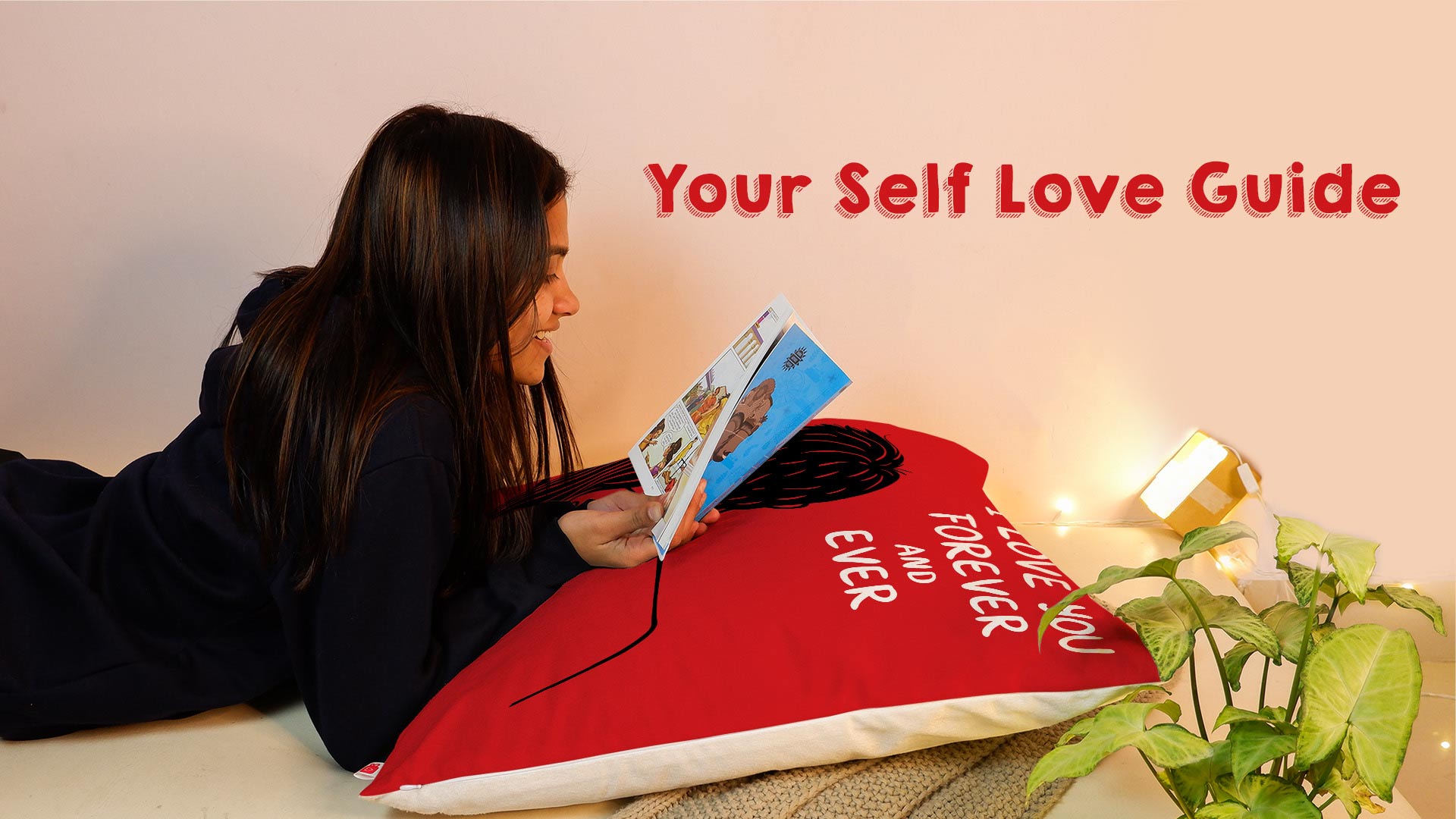 "Main apni favorite hoon" dialogue in the movie Jab We Met has been an inspiration for many but the value of self-love is still underscored by many. Self-love is a feeling where we give importance to our ambitions, way of thinking, etc. 
The same boring life every day makes us feel unwanted and we start losing interest in life. We can start loving ourselves through small things such as giving ourselves something very special, taking ourselves on a treat, etc.
Given below are some of the amazing ways through which self-love can be explored.
1)
Eye Masks
Do you need relief from the everyday hustle and bustle and sleep peacefully? The best way to get the benefits of self love is by giving yourself an eye mask. An eye mask will help you in relaxing and you can do away easily with sleepless nights. 
There are some of the coolest eye masks available in the Indigifts store which will make you fall in love with yourself. The cool quotes written on the mask will give good vibes for self-love and will encourage you to pamper yourself a little more. 
2)
Travel Kits
Are you a ghumakkad person and love to explore parts of the world? Then, don't think much and start packing your bags to nurture the bond of self-love. Don't forget to keep the best travel kits from Indigifts which have all the answers for your travel needs. 
The travel kit has items ranging from coffee mugs to travel accessories. Don't worry about packing and leave it up to Indigifts. Start scrolling for the best places and get ready to explore them. 
3)
Gym Freaks
These are the other species of people who explore self-love by giving special attention to their physical appearances. The gym freaks must give themselves some of the coolest gifts which will keep them highly motivated. Just think of the word "Pahlawan" and your emotions attached to it. 
Why don't you get a wall-hanging frame with the same word inscribed on it? Indigifts has a collection in its store that will push you more every day in the journey of fitness. The other gifts that would be suggested for a gym freak are the digitally printed bottles by Indigifts and so on. Don't leave a gap in motivating yourself for self-love and explore the gifts now. 
4)
Poster with Frames
How will you fall in love with yourself unless and until you value yourself? It's high time for you to place some cool quotes on your wall. To get the most benefits of self-love gift yourself a framed poster and give it a space in your bedroom or drawing-room. 
You can also buy some amazing paintings which will provide you with mental peace every day. The more you value yourself by giving these gifts, the more you will fall in love with yourself. The poster with frames has quotes ranging from "Dulaari" to "Roti". 
5)
Face Masks
The simplest way for self-love is caring about your health and the pandemic has taught us this very well. Indigifts has some of the best face masks that will keep you away from viruses and at the same time will keep you away from the dust and dirt.  
The face masks are made up of cotton material and you won't be allergic to any of them. The anti-pollution mask in the store of Indigifts will provide a new way to self-love by keeping your skin glowy and fresh for ages. 
6)
Diaries:
- 
Want to scribble some thoughts on a piece of paper and feel free for a lifetime? Gift yourself a diary and let it be your best friend with whom you can share anything and everything. 
Diaries are the best way to express when you are alone or want to be alone. The diaries at Indigifts can be the best step towards making yourself feel special and free from worldly tensions. There are other 100 ways to express self-love, but these are the simplest ways that can be followed in everyday life also. 
7)
Pampering Kits
Let yourself remind yourself, 'it's time to create time for yourself joyful with this Self-Care Gift Box from Indigifts for yourself, that's got everything you need to pamper yourself and relax.'
For more self care products you should check out Indigifts wide range of collections. The products at Indigifts for self-love will promote self-pampering and make you fall in love with yourself once again.