Interesting Facts about Raksha Bandhan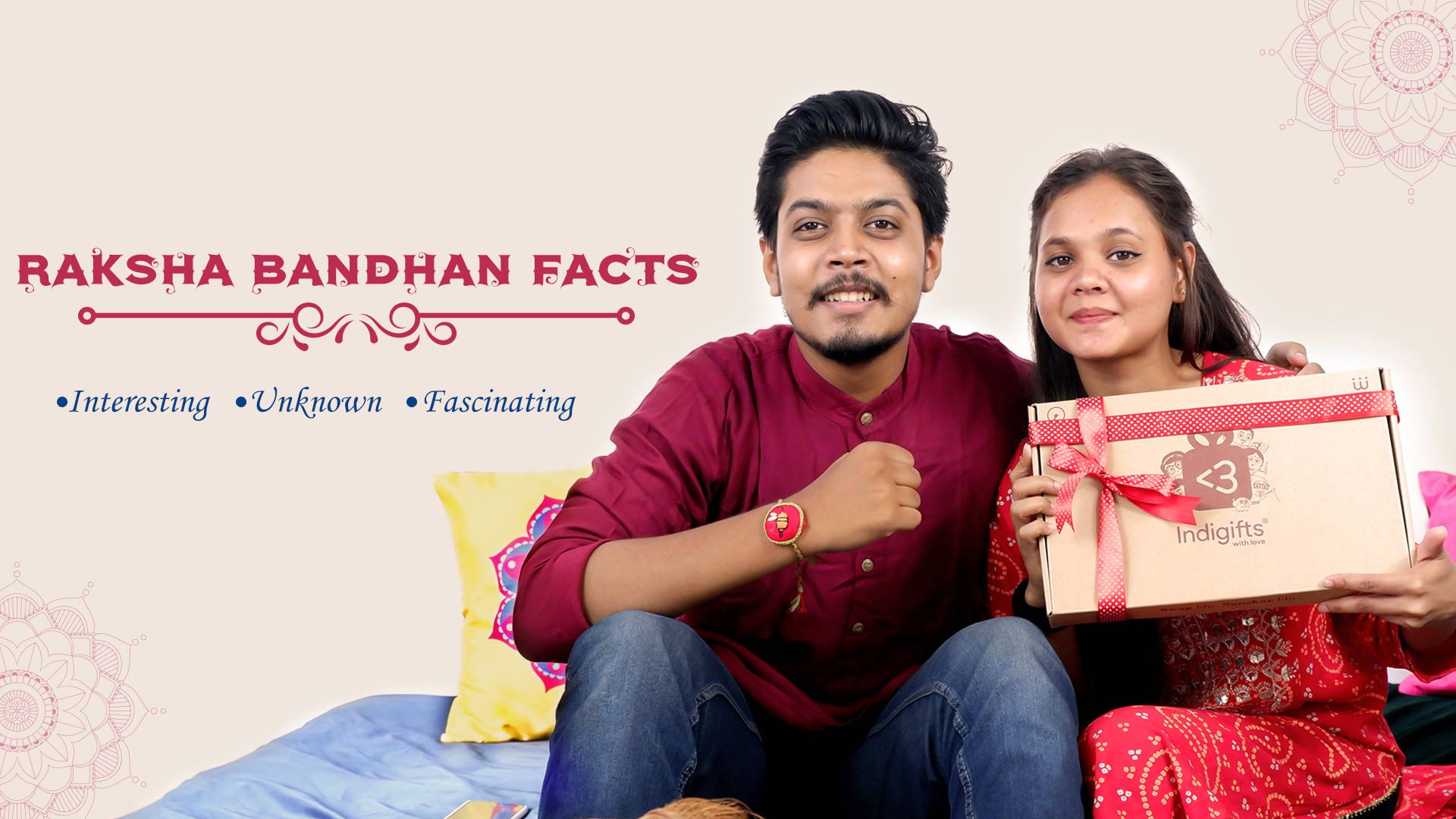 That "kumkum wali thaali, bhaiyon ka pyar aur gifts beshumar" has been a never-ending trait of Raksha Bandhan. This day celebrates the pure bond between a brother and sister. Sisters tie rakhi for their prosperity and well-being and in return, our brothers showcase love by gifting us with hampers and other materials such as wellness kits, rakhi kits, etc. Indigifts salute this sweet bonding and thus have the most special gifts for the Bhai-Behen Jodi.
In this article, we will be discussing some of the unknown but amazing facts about Raksha Bandhan.
1)
Draupadi once tied rakhi to Lord Krishna
:- 
This is one of the most interesting facts about Raksha Bandhan that Hindus believe in. Lord Krishna once cut his hand while flying a kite. Draupadi tore a piece of cloth from her saree and tied it to Krishna's hand. Krishna in return vowed to protect her under any condition and thus she was saved from the Kauravas. 
This is one of the simplest forms of love and care that Draupadi and Lord Krishna shared. You can also celebrate Rakhi in a simpler and ecological way by selecting the best from the store of seed rakhi. 
2)
The connection of Raksha Bandhan with Rabindra Nath Tagore
Rabindranath Tagore used Rakhi as a social weapon during the national independence struggle. He promoted the festival of Raksha Bandhan between the Hindus and the Muslims to restore the unity that was lost due to some ill happenings in the past. It not only strengthened the bond but also created respect for each other's community. 
3)
Indrani tied rakhi to Lord Indra
The importance of a rakhi thread was not always prominent only for a brother and a sister. According to Hindu mythology, Indrani(wife of Lord Indra) tied a sacred thread on the wrist of Lord Indra before he left for a war with the demons. This amazing fact about Raksha Bandhan gives light to the context that Raksha Bandhan was not celebrated only for the bond between a brother and a sister. 
In today's context we can see that in some places, rakhis are tied both to 'bhaiya and bhabhi'. If the same custom is followed at your place too, then check the 'bhaiya bhabhi' combo hamper gift for this Raksha Bandhan. 
4)
Humayun's Raksha Bandhan promise
When the Chittor fort was attacked by the ruler of Gujarat, Bahadur Shah, the ruling Rani Karnavati sent a letter and a rakhi to Humayun and in turn asked for the safety of the fort. Humayun got a little late in saving Rani Karnavati but respected her words by defeating Bahadur Shah and preventing the capture of the fort of Chittor. 
This story on the importance of a rakhi thread became a tale of love and respect for people from both communities. Thus, this fact supports communal harmony and the protective nature of rulers to some extent at that time. 
These were some unknown facts about the festival Raksha Bandhan. Besides all these interesting facts about Raksha Bandhan, you must know how to celebrate Raksha Bandhan along with every one should also take care of your sibling relationship in every possible way. 
One such way is to gift the best and coolest gifts from Indigifts on this Raksha Bandhan. The unique gift hampers are available on Indigifts and other e-commerce websites. Grab a rakhi gift kit for this festive season now.