Creative Ways to Say Thank You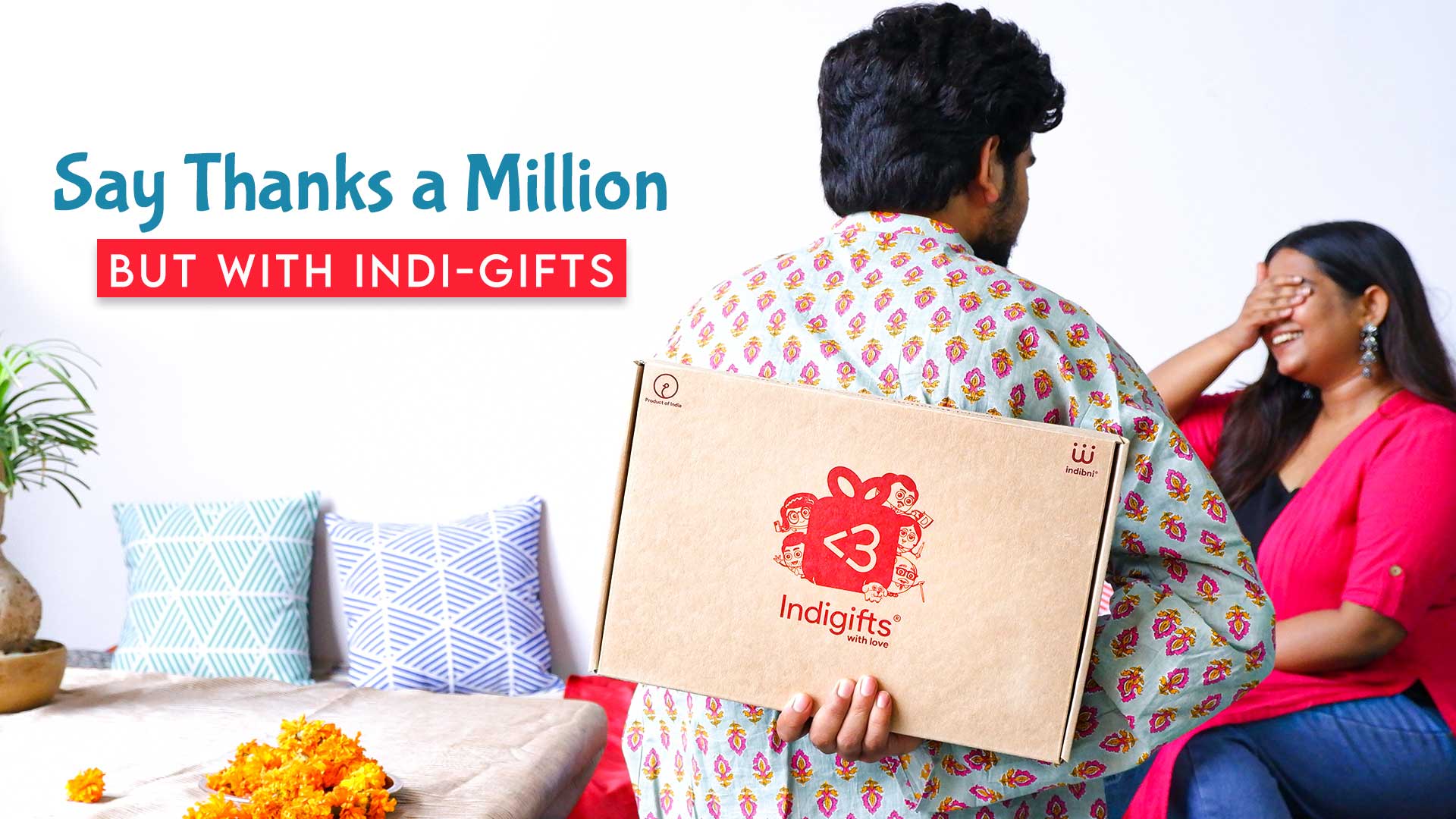 Waise toh dosti, pyaar, vyavahar me no thank you and no sorry is the rule, but we should be thankful to our loved ones, once in a while. Thank you is such a common word but there are many ways that must be incorporated while saying it. Small gestures can be a special way to express your thoughtfulness. 

Indigifts will help you in being less besharam by offering some of the best options of gift. Be careful while selecting gifts from Indigifts for saying thank you. Because if you gift your aalsi behen some kitchen-based gifts and your all-day working mom a soft eye mask to relax with, then things can turn upside down, just saying!
Let us explore the best ways to say the most precious words.
Thanking the Family Member
"Ghar ghar ki kahani" yeh hai ke ghar me har member atrangi hai. So, you need to have some creative ways to say thank you to every member. Present your mom an apron from Indigifts and then watch her reaction. Also, get Mummy da Dhaba' Wall Hanging from Indigifts for her favorite place i.e. Kitchen, and then see the huge smile on her face.
Ab thank you ki jarurat sirf mummy ko to hai nahi because maximum secrets are with sisters and brothers. Gift your brother and sister the best sibling combo kits from Indigifts and say a thoughtful thank you to them. 

Dads are cool but they too deserve to be thanked with tohfe seedhe aaye Indifts' "papa da theka'' se. Khush to ho hi jayenge aur shabashi bhi denge!
Doston ko Thank you, kaun hi bolta hai yaar!
As already stated, there is no need for sorry and thank you in friendship, but when it comes to gifting, then no rule works for them. Friends are our oxygen supplier and thus unko zinda rakhne ke liye sweet gifts are necessary. 
Some thoughtful gift ideas for friends can include the Indigifts 'bhukkad' kit for a friend who keeps on craving or a 'Manmauji' kit for your group. 
Then comes the Aalsi friend whose half-life is spent on the bed. Indigifts also has an 'aalsi' kit to keep them in your favor for the rest of your life. If you have that Param Sundari in your group, make her feel good at least once in a lifetime by gifting her the products like cushions, coffee mugs, eye masks, etc with the words Param Sundari inscribed on them by Indigifts. Celebrate Thanksgiving in a Unique way!
Formal Relationships
Ab jab rishta hi formal hai, then formalities are a must. Saying thank you to your boss or a colleague or to your college professor without any occupied gifts will feel like momos without mayonnaise. So, just grab the best range of gifts for them from the store of Indigifts and start impressing and rewarding their helpful nature towards you. 
Your college professor won't be impressed with only thanksgiving gift ideas, but on the other hand if you gift him/her a diary and a pen from Indigifts, then you have some chances of being noticed in the class for the rest of your years in college. 
Gifts for the Boss & Colleagues
If bosses are the gabbars, then your colleagues are Jay and Viru for you in the office. Thank them by showing love and respect for them through some dostology gifts from Indigifts.
"Gabbar ho ya hitler", boss toh boss hote hain and thanking them for giving the opportunity to work and not contributing to India's unemployment rate is very necessary. Thank them by gifting them a coffee mug that can freshen up their minds in the early morning. Gift ek fayde, anek case applies here. 
There are a lot more creative and unique thank you gift ideas on the Indigifts store. Scroll through the categories mentioned above and see it yourself. Give your every relation thoughtful gifts from Indigifts and make them proud of your choice both for gifts and the people that you have chosen in your life.
If you have query related to Thanksgiving Day, then here is All Your Questions About Thanks giving Day Answered