Brother Sister Duo: Memories with Siblings, a Bit Sweet a Bit Sour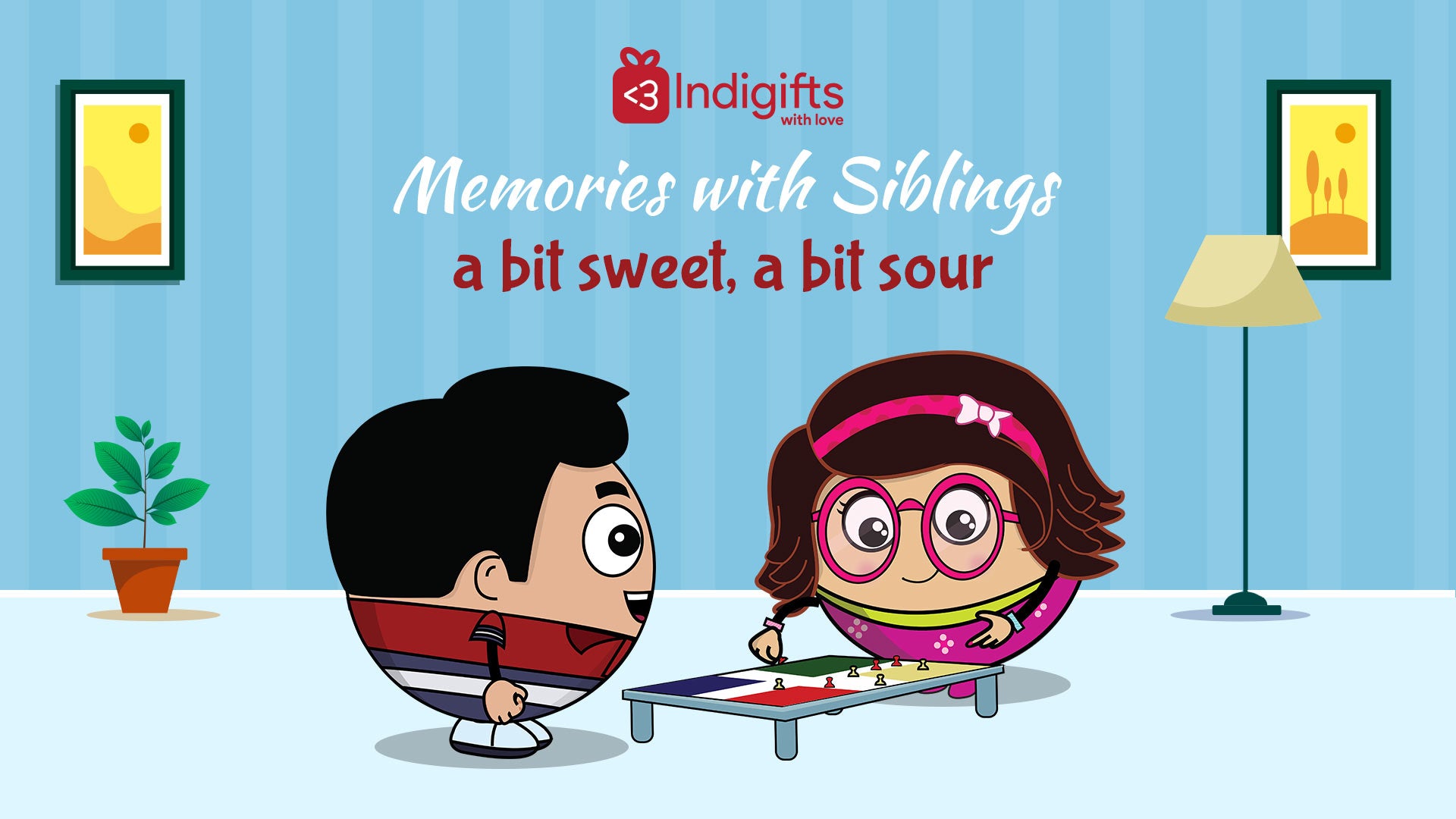 It is implying that no matter how old you get, your heart will always go 'Dil toh bachcha hai ji' when you are around your siblings. That 'bachpan ki nok jhok'  and supporting each other when needed. Oh! And when someone harms your sibling then 'uski kutai' will always remain a thing to remember.
Everyone wants to relive those sibling memories including some silly conversations, idiotic ideas carried out by either our brother or sister, studying during exams, playing together, acting like others, etc.
Indigifts understands these emotions of the bro-sis duo and thus, wants to make that relationship and bond stronger through some cool and memorable gifts.
Different Tastes Yet Similar 'Khurafat'
Children who have grown up with siblings have a natural grasp of how diverse people may be. The brother may be reserved and a voracious reader. Perhaps the sister is a great Traveler at heart. If your sister is also a traveler, then gift the travel hamper from Indigifts. 
It offers them a natural talent for settling disputes. If mummy is watching both of you fighting and she is in a terrible mood, then that same fight turns into peace. Cherish those moments now by gifting your sibling some of the best photo frames from Indigifts.
Baatein Jinme kat jaye Raatein!
'Wo bolte hain na ki bolte bolte sahi bolne ki aadat lag jaati hai'. 
People who have siblings have often had long conversations. Sibling's conversation skills are strengthened as they see and listen to their siblings. They have a rapid grasp of what will and won't work with their friends.
They create original strategies to bargain with their parents as well. They start defending themselves when needed and this makes them a person who can debate easily. 
And what better gift option than an eye mask to celebrate the comforts of the sibling relationship.  The Indigifts eye masks are 100% soft and free from any allergic product. They will provide a good sleep and peacefulness whenever you need them most.
A Relationship deeper than Mariana Trench
The 'Mahabharata' of siblings is famous worldwide. Siblings who grew up with deep relationships tend to feel more supported and secure during adulthood. 
Not surprisingly, this is because siblings know you right through your soul because of sharing the same parents, same environment, same conditioning, same discipline, and even the same disappointments. 
According to many child specialists, siblings may not always agree with you or even like you, but they elicit a great interest in you that is difficult to replicate in any other relationship. And to keep the relationship bloom further you need a coffee mug from Indigifts. Yes, a coffee mug so that you can sip and talk for hours at the same time.
Bro-Sis -  The Ultimate Multitasker
The bro-sis relationship can keep secrets about you that no one else knows, and they can understand your jokes better than anyone else. Being a sibling also means having someone tell your most quirky thoughts and feelings and know that it will go no further. 
Having close bonds with your siblings is crucial to living happy, healthy lives.  This gives you so much extra work to handle and thus you are always that busy and productive person in your life.
But in between all these hassles is the one thing that is needed - a cool present. You can always rely on Indigifts for entitling the brother-sister relationship. If you want your secret box to be always silent in front of your parents, then don't wait anymore and bribe your siblings with the best gifts from Indigifts.