Discover Corporate Gifting Anew with Indigifts
Posted by Rishabh Bhandari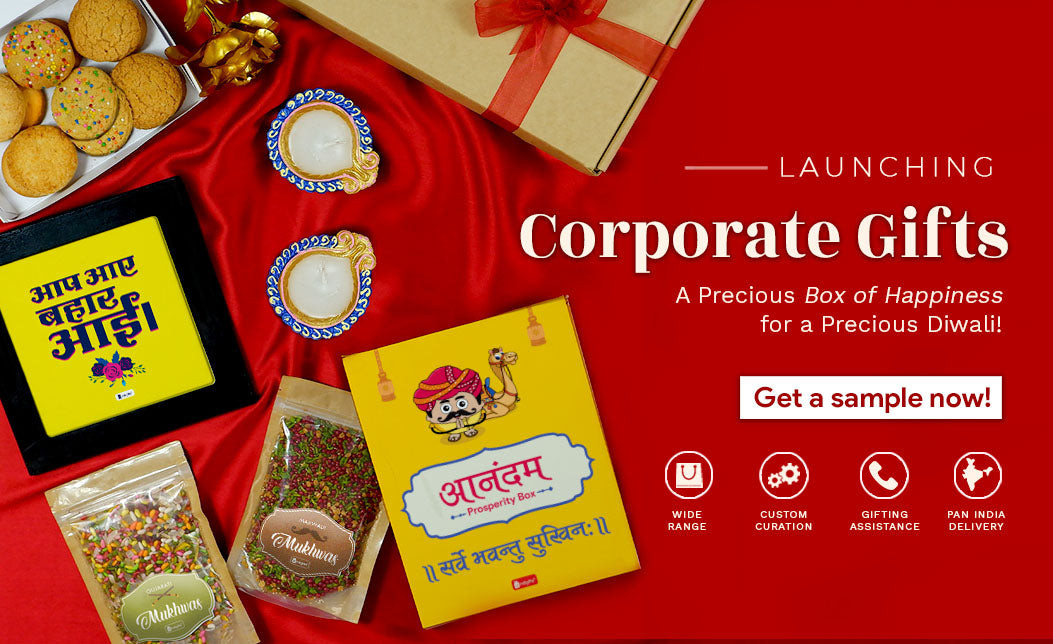 A show of affection, a gesture of love, a token of gratitude, a way for connection, or simply just to make others happy, giving gifts is the most picked up thing. Whether you are gifting your loved ones or an acquaintance, this comes as a great way to enhance a relationship. Even in corporations, gift-giving has become the most relevant strategy to deepen relationships with management, clients, and employees. Moreover, to make people feel connected to the roots of the company and feel more regarded for their contribution. To attain this, it definitely requires going beyond the usuals! The magic wand that you can spin around is choosing the right, long-living, memorable Corporate Gifts.
Corporate Gifting that goes beyond festivities.
Corporates, with aspirations of nurturing connections between stakeholders, expanding client base, or building a stronger workplace culture, are moving the wheel onto the path that would possibly lead to a happier work environment. Even with regards to corporate gifting, the chart of common festive or Diwali gifts has been taken down. Today, the way corporate gifting is seen has totally changed. The horizon has broadened and trends are transforming. A gifting event is not just limited to Diwali bonuses or greeting cards, it has caught a new flight. Now, there are gifts for every occasion. You can indulge in presenting custom corporate gifts such as a welcome gift to welcome a new joiner or a farewell gift to bid farewell to someone or a courtesy gift for being considerate of someone's high-yielding efforts. Besides, you can go about organizing corporate gift-giving events for performance appraisals, birthdays, and work anniversaries. Whatever part it is, all it takes is a little creativity whisked with some conscious gifting and you are done!
Usher Uniqueness to the Standard Gifting Style. 
When it comes to sorting out ideas for office gifts for employees, staff, clients, and board members, our thoughts revolve around the usual bonuses, wishing cards, flowers, etcetera. But we think those are actually bygone era's gifting ideas, no? This time, we would like you to get away from run-of-the-mill gifts and go the unconventional way! Add to your list, corporate gifts that are unique, practical, and have a personal touch of genuine appreciation. 
Explore things that your army would love to have, like:
Utility Products such as work or office accessories 

Home & living products

Fun & swag-filled travel kits

Self-care & wellness gift boxes

Letter of acknowledgment, thank-you notes 

Digital things like e-gift cards & gift of their favorite streaming platform

Charitable gift made in their name

Healthy snacky goodies & treat boxes 

Hand-curated, personalized, sustainable gifting
So, now the question arises, how do you go about doing corporate gifting?
Corporate Gifting is an art, no doubt but, knowing the science of it is equally important. The when, what, how of it must be taken into account while gifting. When it comes to presenting custom corporate gifts to your work army, it's crucial to get the ones that they will never forget and will keep as an emblem of a stronger bond. The secret behind this isn't a secret. Just some details on the trends, the know-hows of the rights and wrongs, an understanding of people's necessities and aspirations, and lastly bringing to them the best gift in the best form. Too much to handle? WE KNOW! That's why, at Indigifts, we have come to the rescue with our exclusive Corporate Gifting Editions- Abhinandanam- a celebration gift box & Anandam- a prosperity gift box. 
We lend a hand of help to companies in managing & fostering relationships with their employees, connoisseur clients, business partners & collaborators by creating a wholesome set of custom corporate gifts that includes quirky & fulfilling products, custom corporate gift hampers, wellness kits, all available at our online gift store, finely made to satiate the needs of your work army. 
Well, not loading you here with information anymore, but would definitely want to load you with our hoard of unique, high-end gifts for corporate and so, we ask you to stop brooding over this, put your binoculars at rest, and make us hold the knob of the doorway that leads to giving you a seamless corporate gifting experience.