Krishna Janmashtami - Celebrating The Birth Of The Eighth Avatar Of Vishnu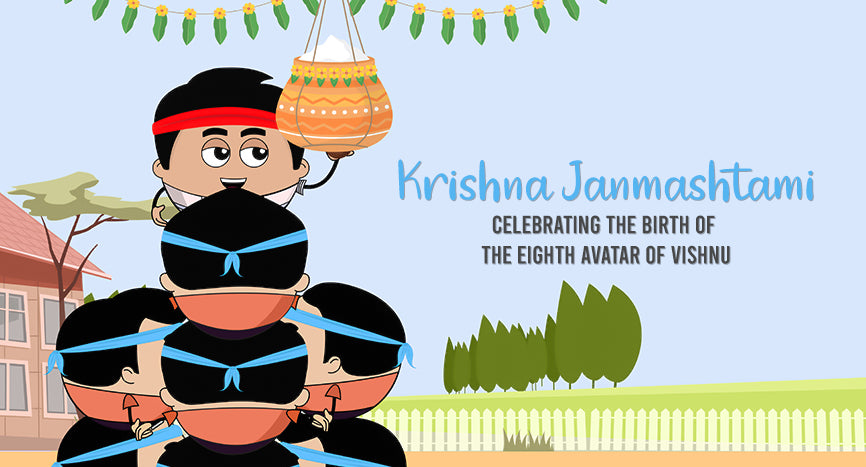 The number aṣṭa, i.e. eight in English, holds a special place in Lord Krishna's descriptions. He is one of the most widely celebrated of all Indian divinities all over the world, worshipped as the eighth incarnation of the Hindu god Vishnu. Lord Krishna's birth is celebrated in the month of July-August, on the 8th day of the dark fortnight, all over India, or on the eighth day of Shravan. Also, Krishna was the eighth child of his mother, Devaki. That's a lot of eights, right? 
Here is how India celebrates Janmasthmi differently in several states of India:
Maharashtra 
©DNA India
Dahi handi? Does it ring any bells? The chant of the young crowd 'Govinda, Govinda' while taking part in a stunt? This one must have brought some visuals to mind, right? That's the sound of Maharashtrians celebrating together on Krishna Janmashtami. A pitcher of curd is hung at a height from ground level to which young boys, symbolizing themselves as Lord Krishna, form a pyramid. One particular person climbs up the pyramid and cracks the pitcher.
Vrindavan
©Aaj Ki Khabar
Vrindavan, a place where Lord Krishna spent the majority of his childhood. No surprise, the birthday of Krishna is celebrated with such a great zeal in Vrindavan. The place is filled with several Kanha temples like ISKCON, Radharaman temple et cetera. During this festival season, Vrindavan attracts tourists from all parts of India, and folk performances take place at Madhuban.
Dwarka
©DNA India
In Dwarka, which is also famous as being once the kingdom of Lord Krishna, the Dwarkadhish Temple worships Krishna in his infant form. Here is an interesting fact. Did you know that on this occasion of Janmashtami, women across Gujarat give up their household work for a day? Do you ask, what for? They play cards. That's pretty cool, right?    
The devotees of Krishna come from so many different parts of the world to commemorate the birth of Lord Krishna in their own ways. This year, Janmashtami will be celebrated on the 30th of August on Monday. Let us know which state you are from and how have you always celebrated Janmashtami.   
Also read: India in 1947