Top 10 Ideas on How to Celebrate Women's Day
Women are indeed a crucial part of our lives and they are just amazing. Quoting Nancy Pelosi "Women are leaders everywhere you look—from the CEO who runs a Fortune 500 company to the housewife who raises her children and heads her household. Our country was built by strong women, and we will continue to break down walls and defy stereotypes." and we believe in it.
But to impress them is not so easy, aakhir samjah kon saka hai inhe puri tarah seh. Upar se, gifting has always been a stressful job, especially for men. And nai nahi hai yeh baatai, yeh baatai hai purani, usko khush karna jese koi paheli, aur yeh kesi paheli meri zindagaani..
Are you also one of the poor souls searching for Birthday gifts for women or anniversary gifts for women and just keep on saying "Bhai samajh nhi aa raha kya loon"? But don't worry about that yeh haal sabka hai chahe voh pati, beta, bhai, boyfriend ya dost hi  kyu na ho, Indigifts sab samjta hai.
Presenting female friends with an ideal gift has never been easier, but at Indigifts we know how to do it and do it rightly! Our collection of presents for females includes thoughtful and personalized options toh chahe voh apki mataji ho ya phir baby ji, you'll surely find the right khushiyon wala gift here.
Haatho ka Jadhu
Handcrafted or handmade things are adorable and one-of-a-kind gifts. Purchasing handcrafted things from the range of Indigift's products helps local craftsmen thrive, as most art is dying due to a lack of cash generation. But nobody needs to worry anymore as we present to you a range of gifts for women like a wall hanging with the quote "Home Is Not Home Without Mom" print and much more customized and handcrafted to make your loved one feel special.
My Skin My Shine
Women love to take care of their skin so what is better than gifting them a set of skincare products right? Qki Make-up ho ya skin care products sab ek sath har jagha jate hai ladkiyo ke sath. Surprise them by gifting them an adorable skincare set by their favorite brands, and make them happy.
Sona kaha hai?
Oh and here comes the love of "Abhushan". We all know the love for jewelry a 'Bhartiya naari' has whether it's gold or even better "Platinum". You can choose a bracelet, a nose ring, or a necklace to please her with jewelry of her choice.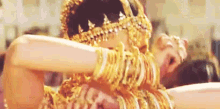 Mumma's kitchen shield
What a great gift for the kitchen master - your mother! How about presenting one of a kind birthday gift for her which is going to leave an everlasting impression on her. An apron may appear to be a dangerous gift idea at first, lekin tumhe mumma se pyaar hai and Mumma loves her kitchen. We bring a huge library to choose from Indigifts product range, you'll surely find something for your lovely Mumma.
Exquisite showpieces
The decor showpieces are elegant and long-lasting souvenirs for your family. Perfect to gift your loved ones at housewarming parties or festivals, the showpiece that is uniquely designed & in detail is surely gonna catch people's eye on it, dhyan rakna chori na ho bass. A scroll or wall-hanging photo frame from Indigifts containing some of the best quotes will surely make your friend/mother/sister smile.
What the shoe!
Women are obsessed with footwear and always want a collection of shoes for different occasions from chunky sneakers to high heels. As new trends are popping up every day, how about giving one to the love of your life. Every season, designers create stunning collections, and before you know it, your entire existence revolves around footwear. It could be a great anniversary gift for women that can make them run in surprise. ( Disclaimer: stay away from her when she is angry )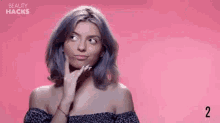 Wallets and Organizers
Does your friend always forget the debit card at home while splitting bills? So make sure you give her a designer wallet, which is a useful and stylish gift ( saving your future money by investing in one useful gift ). Finding the appropriate wallet is time well spent for an item that will see near-daily use, and they also make a great holiday present for parents, dads, and friends. A wallet/holder from Indigifts will undoubtedly make their life simpler, especially if they frequently like to change their bags.
Tech lover
Even for the most difficult-to-shop-for individual, the latest electronic devices are always a terrific present. Why? Whatever their hobbies are, there is always something out there that is precisely fitted to what they enjoy. Be it a ring light for the "Reels" Addicted or a smartwatch gadget is one of the best gifts out there.
Sleep lover
A good night's sleep is essential, and an eye mask or a soft cushion is a wonderful buy to boost your chances of obtaining the rest you need. It's also a cute present. Indigifts has many of its gifting products containing funny and amusing phrases. The cushion and the eye mask have the same quirkiness to them.' These are comfortable as well as adorable to make any day special for your loved one.
Indigifts' hoard of gifts from giving a pampering gift to your sister, to an apron to your master chef mom, from a hug cushion to your wife to a beer mug to your friend. be it any occasion or relation, give it with or without a reason, gifts from Indigifts.
#happywalapresent #indigiftswalapresent.