100 things to do while you're home during quarantine:
Posted by Team Indigifts :)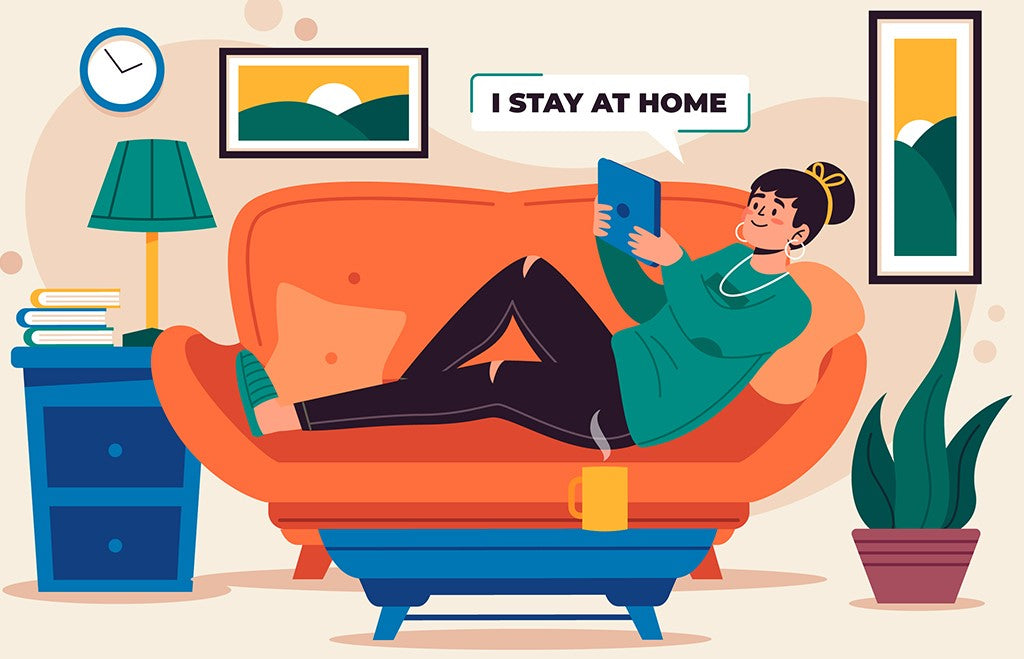 We all tend to get tired or bored of staying home during this quarantine. But does this mean that you spend your entire day, just scrolling through social media! Well, you can use the break to your advantage or just have some fun. So rise and shine! Here are a few things that you could do:
Talk to your old friends or acquaintances. Call them and Mend or build relationships.
Try yoga. Check out videos for assistance and stay healthy.
Start a book or e-book. Reading is one of the most productive ways to pass the time.
Talk to your family more. Never a better time to interact with your family.
Tend to your plants or garden. Water then regularly and trim them.
Walk around the house. Don't just sit on that couch, walk around the house.
Draw or paint. Even if you've never done this before you're bad at it, give it a try. You will enjoy it more than you realize.
Try to cook or bake something new with the items you have in your kitchen.
Watch an old movie with the family. Best way to spend the day!
Nap responsibly. Don't sleep all day, but take power naps.
Clean the house. You will feel the benefit of a clean space!
Redecorate your room. Move around the chair, shift your bed. Put up a poster or a frame. Little things will freshen up your room.
Find and explore music. Try classical music. If you already listen to it, find something new!
Try to learn a language online. There are many great sites to help you learn.
Meditate frequently. Find inner peace and just breathe!  Inhale…exhale.
Learn papercrafts or origami. It is a cute and satisfying hobby that you can get into.
Catch up with all your close friends on call. We're all in this together.
Go through a photo album with your grandparents!
Eat healthily! Don't keep munching on junk food but have some healthy food.
Dance away your worries! Take some time to learn a dance step every day.
Make a list of things you want to do when the quarantine and the corona scare is over!
Decorate your room like it's Christmas. Because why not? 
Create a collage or mood board! Make this from the newspaper or magazines.
Play an online multiplayer game, like Ludo or Pool with your friends.
Watch all the movies that you have always wanted to but never got the time for.
Read all the books that you never got the time for before. 
Learn Calligraphy! Look up online tutorials to help master it.
Treat your skin right! Use face mask and scrubbers! 
Donate to a charity! Although won't help pass time but it's a great feeling to help out people in need.
Learn how to cut your own hair or trim your facial hair. Look dapper!
Play dress up! Dress up as Thakur, or as a Disney princess! So many possibilities...
Set up a tent or a pillow fort inside. 
Throw a virtual party! Decorate your house, get snacks and a drink and video call your closest friends to have them take part in it virtually. 
Play a jigsaw puzzle or make one yourself.
Clean out your bag. Get rid of wrappers and old bills 
Plan and set up your schedule for the week. 
Plan what you're going to eat on the weekend. 
Find out a podcast you like and give it a try. 
Play cards! Or learn how to play Poker. 
Look for an online course. This is a great way to be productive. 
Try different apps on the AppStore. From games to fitness apps. 
Do online Karaoke. Practice your singing. 
Try your hand at juggling. It's gonna need patience and hand-eye coordination.
Make some funny custom playing cards.
Make birthday cards, Christmas cards! Any kind of greeting card for the upcoming celebrations. 
Make playlists for special occasions and themes. 
Play charades with your family. 
Give a massage to someone. Then get a much-needed massage. 
Write a story. Let your imagination and creativity run wild. 
Start a blog about something you're passionate about.
Solve a Rubik's cube! It's a great way to stay attentive and pass time. 
If you have an old instrument lying around, try to play it and get better. Perfect time to do this. 
Write a poem or song. It can be anything and it can be just for yourself. 
Watch interesting foreign movies and expand your taste in movies.
Write thank you messages for people most important to you. Send them out when you get the chance. 
Write apology messages for those who you could've treated better in life. Or simply stated in touch better. 
Watch all the movies that won an Oscar in the past few years. 
Learn how to knit. Make winter caps for yourself and your loved ones. 
Look at yourself in the mirror and try to make a self-portrait. 
Try to recreate art you see on the internet. 
Make a journal and plan your day. 
Start writing a diary and note down everything you do each day. 
Make Excel and write down everything you're reading, movies you're watching etc. Ask your friends to do the same and exchange the files. Try their choice. 
Make a list of things you're grateful for. 
Learn a recipe from your grandparents. They will surely appreciate it!
Watch only animated movies and movies for kids!
Try to make a stop motion clip! Look at tutorials and make a story. 
Colour your hair! You're indoors so experimenting as much as you'd like.
Face paint! Use vivid colours and click crazy photos of yourself. 
Rearrange your shelves and closet. 
Read a comic book or a digital comic. 
Play with your pet and teach him tricks. Or plan on getting a pet once the quarantine is over. 
Fix and update your resume and look for options to apply to. 
Improve your handwriting. Write a lot and you'll see the improvement. 
Learn how to rap. Practice with existing songs. 
Loudly sing along with all the songs you listen to!
Learn how to beatbox! It's a unique skill that you can develop. 
Try to improve your drawing and sketching!
Make sock puppets out of old unused socks! Make a small show out of it. 
Plan out a holiday for when the quarantine is over. 
Make individual music playlists for your closest friends and send it to them. 
Make coffee for your family and serve them breakfast in bed. 
Try a new hairstyle. Experiment away now that you don't have to go out for some time. 
Make a kite or get a kite that was lying around and try to fly it on the terrace!
Find jokes, make a jokebook and recite them to your family. 
A prank call (responsibly) to a friend! Let them know it was a prank in the end.
Paint flower pots or mugs! 
Start a healthy diet of eating fruits instead of junk food and snacks.
Help out in doing chores and cleaning utensils. 
Message riddles to your friends. See who's the smartest!
Solve regular crosswords and games in the newspaper. 
Read articles and information about things you never paid much attention to! Try History. 
Ask your grandparents and make a list of home remedies.
Find out which spectacles would suit you the best. Go to websites and try their frames virtually. 
Try making your very own mocktails with the ingredients you find in your kitchen. 
Get rid of old clothes and things that you have lying around in the house. 
Learn how to breakdance! Check out YouTube tutorials. 
Make a scrapbook of pictures from your childhood. 
Play an intense game of chess with your father. 
Stay fit and healthy and adopt healthy habits for every day.