Last Minute Christmas Celebration Idea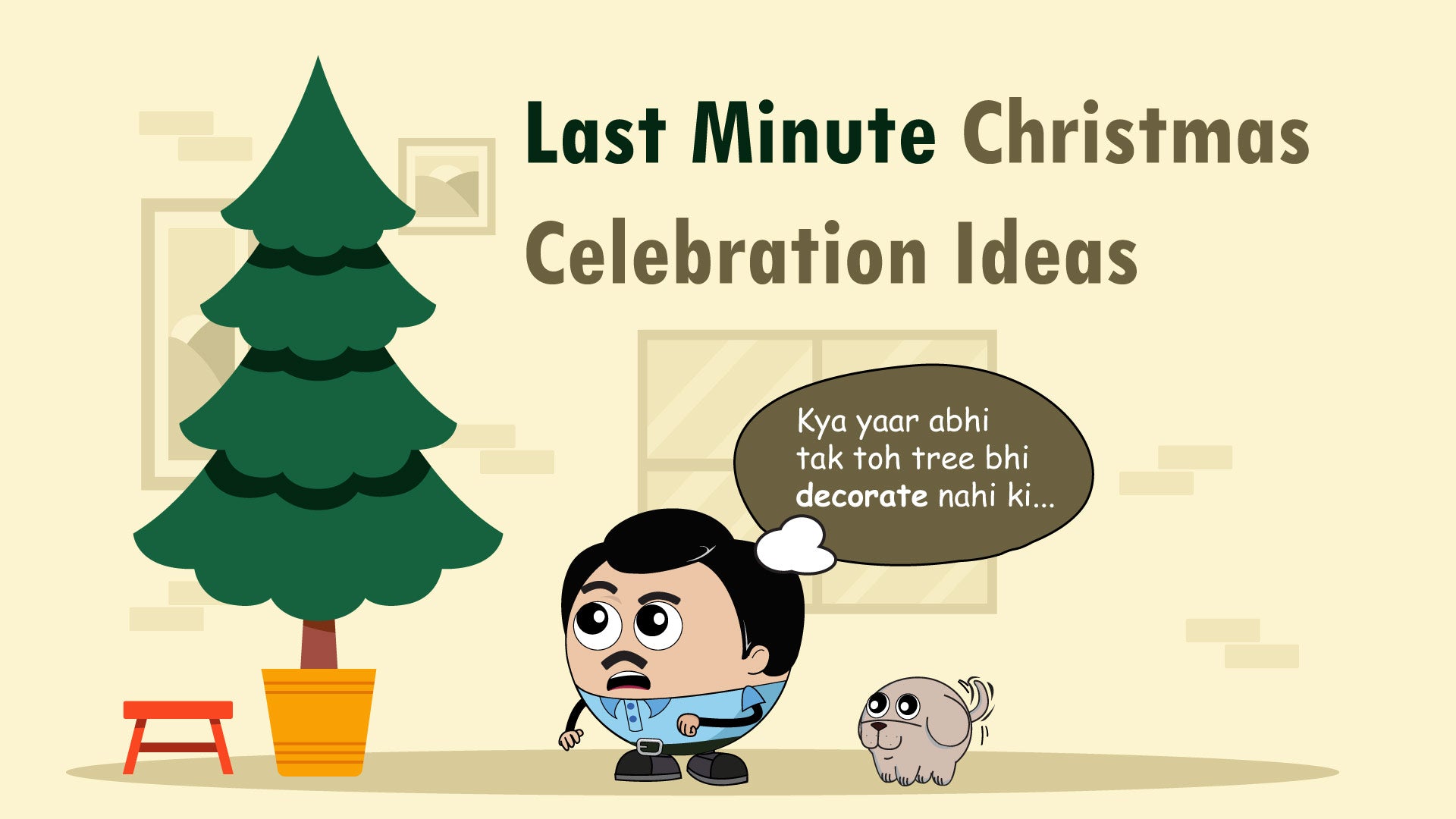 Christmas celebration is one of the best festivals celebrated around the globe and in India as well. Christmas is close, too close and you haven't decided what activities, gifts, rang-birangi lights, and delicious sweets you should choose. Take a deep breath as we are taking you on the journey of finding the perfect Christmas celebration ideas.
Food for the Mood
Food is an essential component of every celebration, and our Christmas party ideas for adults would be useless without some suggestions. When planning your food, keep your visitors' dietary requirements in mind, and consider catering or delivery to lessen your burden. The tastiest food for the coolest occasion, sounds delicious right?
Decoration is Important
Since it's a Christmas party, the theme of course has to be centered around the same. Opt for some red and white decor and try to make it sustainable (we're thinking of flowers, red drapes, and paper mistletoes that can be composted later). Add a touch of green with plants and pretty planters to amp up the festive feel. Go for minimalist decor pieces from Indigifts so that the place looks vibrant and lively without being too over-the-top!
Entertainment for the Vibes
Bring out the singing and instruments, or prepare some entertaining activities. You may provide toys and board games for the youngsters, or put up a 'pin the nose on the reindeer' station for hours of entertainment! Also, you can invite your cousins and friends over for Christmas eve and have a full blast with them.
Virtual Party
The corporate Christmas party ideas should be cool right? This Christmas throw a virtual party for all your colleagues. You can arrange a fun game like Antakshari to have fun with your homies on this special day.  
Gifts for Everyone!
What is Christmas without presents? Of course, our Christmas party ideas must include some gift suggestions! Your visitors will almost certainly offer you and your family a little present, so be sure to return the favor with a thoughtful, meaningful gift. Check out these gifts for the Christmas eve party ideas - 
Comfy Cushions
Blow the holiday whistle, Santa and his squad is here to make your Christmas celebrations an affair of love by making you set up your decor with merriment wrapped in our Reversible Cushion Covers for home space. A hoard of color-popped, digitally-printed Christmas decoration cushion covers that will light up your festive decorations and stun everyone! Grab your hands on not one but we say all, available in varied colors, prints, and shapes, and give them as Christmas or Xmas gifts to your favorite hoomans.
Christmas Wall Hanging with a Santa Soft toy 

Let your Christmas decor theme be screaming with happy, christmas-y vibes with our wooden-carved Wall Hanging Board, that says "Merry Christmas" in the most crafty way. A vivacious doorway & Christmas wall hanging decorations artwork, coming in varied colors & designs, making for a happening gift to be lent to your kinfolks. Also, make way for our cute wee Santa Claus, who is here to woo you this Christmas. An adorable, tiny mighty reversible santa soft toy for kids and also for those who are kids at heart. Little in looks with Santa's face and highly functional, coming with a pocket to put small things or trinkets, this lovable soft toy game is love and gift-friendly making for the best Christmas gift for kids or friends. 
Christmas Poster Frames
Just imagine, a poster frame, crafted so well, that it holds the propensity to infuse warmth and tranquil vibes to the space and at the same time adding to the excitement of your Christmas decor. Now stop imagining and get our quirky printed 'Happy Home' Christmas Wall Poster Frame. Available in varied colors & designs that make it impossible for one to not get into a jovial mood once installing these homey artworks. A perfect secret Santa gift for kids or festive winter gifts for friends.
Xmas Ornaments
An out-of-the-box festive celebration requires an out-of-the-planet decorative idea. That's why we are passing your doorway our Merry Christmas Hanging, a wholesome space trinket to usher that perfect holiday-appropriate Christmassy vibe into your space. Convenient to string up in your fireplace area or doorway or window slits. Moreover, you can use the merry Christmas banner for the Xmas tree decoration as well. The endless ways to hang this bunting make it an astounding piece of Christmas ornaments for home & office space. A must-own from the Indigifts Galore of Gifts!
Christmas Vibe Frosted Coffee Mugs
It is our very unique, Indigifts-original Frosted Glass Coffee Mug! A craftier Christmas-vibed mug that would be anyone's favorite thing to sip hot cocoa in the chill season. Beautiful patterns printed with cool colors make them an item of all quirk and sass and the sturdiness is incomparable. A cute decorative piece and an amazing Christmas gifting option, the transparent glass tea mug is a great deal to shower your loved ones with.
Santa Hand Puppet
The month of joy is here and Santa on his sleigh has made his way to bring you quite-a-handy happiness, our dipped in all Santa love Hand Puppet. It is absolutely quirky, it is catchy (literally), and it is all that you need to make your holidays fantastically fun. Available as a hand puppet toy for adults and a hand puppet toy for kids both, you can grab the Santa Hand Puppet to cheer up your Christmas celebration or give it as a Merry Christmas gift of joy.
The Christmas season is here, and now is the moment to show your loved ones how much you care. Don't panic if you've waited until the last minute to order Christmas gifts. All of the above-mentioned presents are available at Indigifts online shop and can be delivered to your loved ones' homes the same day.