Mummy Da Dhaba-Indian Street Food Recipes.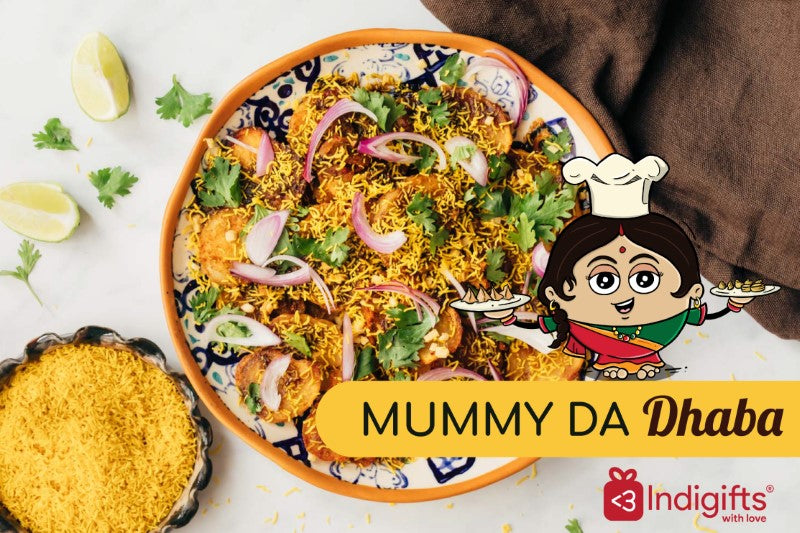 Happiness is directly related to food and it gets doubled when you have a plate of mouth-watering bhel puri in front of you or when you see pani puri wale bhaiya giving an extra sukha puri. The craving for Indian street food that makes you lick your lips can come at any random hour of the day and it becomes impossible to wait for the old howker who comes every evening at his fixed time. During such, no less than pandemic time, comes to the rescue, our MOMs! 
Mumma knows everything about the kitchen, from Italian or Chinese cuisine to Indian street food. Moms, by default, are very good chefs. She knows how to make different dishes and drinks to satisfy the Indi Family's food cravings. Indi, Choti, Papa, Dada, Dadi, everyone is enjoying every bit of their favorite Indian street food freshly made at home by mumma with goodness, spices, and love swaad Anusara.
If this intro has literally brought water into your mouth and you have started to dream about chaat-shaat, then we are here to bring that dream come true for you. Be here, as we talk about Indian street food made from potatoes that can be made easily home by mumma's magic.
1. Dahi Puri
 Dahi Puri is Mumbai originated Indian street food which is made in a form of chat and can leave you with its sweet and salty taste for cravings. Here is the recipe. 
Ingredients:
16 crispy puffed puris golgappa (available in India grocery store)

½ cup potatoes (boiled peeled and cut into small pieces)

½ cup tomatoes (chopped in small pieces)

1 tbsp green chilli (finely chopped)

1 tsp ginger (finely chopped)

1 chopped onion.

½ tsp salt

½ tsp roasted cumin seed powder

1 tsp lemon juice
Method:
Spread the puries on a microwave-safe plate and microwave

for about 20 seconds, this will make the puries crispier and give the

freshness. Set aside.

mix all the filling ingredients together, potatoes, tomatoes, green chilli, ginger, salt, cumin powder, lemon juice.

First, make a hole with your thumb in the center of the golgappa and fill with 1 tablespoon of filling in one golgappa. garnish with yogurt tamarind chutney, a few pieces of green chilli, salt, and red chilli powder. Your Dahi puri is ready to enjoy with family. 
2. Crispy Aloo Pakoras.
Crispy aloo pakoras are a flavorful and delicious snack especially when it is served with chutney and a cup of hot tea. They are easy and quick to make. They are the best snack for the monsoon period.
Ingredients:
2 cups potatoes wash, peeled and finely chopped, 

1/2 cup besan

2 tablespoons rice flour

2 tablespoons cornstarch

1 tablespoon fennel seeds crushed(saunf)

1 tablespoon coriander seed crushed(dhania)

1/4 teaspoon turmeric(haldi)

1/4 teaspoon mango powder(amchoor)

1/8 teaspoon asafetida(hing)

2 tablespoons cilantro chopped (hara dhania)

1 tablespoon oil

1 teaspoon salt
Also need oil to fry
Method:
Wash and peel the potatoes and cut them into very small cubes, and soak them in cold water.

Mix all the ingredients together except salt and potatoes.

Drain the water from the potatoes, add the spice mix, and mix it well. Add water as needed making sure the spice mix sticks to the potatoes uniformly.

Now add the salt and mix it well.

Heat the oil in a frying pan on medium-high heat.

The frying pan should have at least 1 inch of oil. To check if the oil is ready, put one piece of potato in the oil. The potato should rise to the top but not change color right away.

While putting the potatoes into oil, loosen them with your fingers to make sure the potatoes are separated and do not form clutter. Potatoes should be separated while frying.

Fry the potatoes until they turn light brown, turning them occasionally.

When they are brown and crispy, take them out of the oil with a slotted spoon. Place them on a paper towel to absorb the extra oil.
Your aloo pakoras are ready to eat, serve them with chutney and hot tea.
3. Aloo Chana Chaat
Aloo chana chaat is a spicy potato and chickpea snack involving marinating boiled potatoes and chickpeas in spices to make a great savory snack.
Ingredients:
1-1/2 cups boiled chickpeas (chole or Kabuli chana)

1-1/2 cups potatoes (aloo) boiled peeled and cubed in small pieces

1 tablespoon ginger finely grated (adrak)

2 teaspoons green chili finely chopped

1/4 teaspoon red chili powder

1 teaspoon roasted cumin seed powder(jeera)

1/2 teaspoon salt

1/2 teaspoon black salt (kala namak)

1/2 teaspoon mango powder (amchoor)

2 teaspoons lemon juice

1/2 teaspoon sugar

2 tablespoons finely chopped cilantro (hara dhania)
Method:
Wash and dry the whole green chilies. Heat a small frying pan on low medium heat, add the oil and green chilies, and cover the pan. Shake the pan slowly to move the chilies around. Cook the chilies for about 2 minutes, the chilies should be light brown. Remove and keep aside.

Place boiled chickpeas in a bowl and lightly mash. Add the potatoes and all the ingredients ginger, green chili, red pepper, salt, black salt, black pepper, mango powder, sugar, roasted cumin powder, lemon juice, and cilantro mix well.

Let it sit for at least fifteen minutes or more.
Serve the aloo chana chaat with a side of tomatoes, fried green peppers, and lemon wedges.
These were some of the easiest street food recipes made from potatoes. Try them out and share them with your friends and family. 
Now before you go and put in front of your mom your farmaish to make some delicious food, we tell you to take something for her. Maybe a Mother's Day surprise gift hamper from Indigifts that will make her smile go even wider. Check the gifts out and choose what would please her!