What is True Love in a Millennial World?
What is Love?
A tale of two intertwined hearts, beating at the same time.
Seeing yourself through someone else's kinder eyes. 
Embracing your existence with someone's mere presence. 
Pyar ki paribhasha, pyar ki samajh har insaan ke liye apne tareeke se khubsoorat hai. We asked people at Indibni Studio to tell us what love means to them. Here are some of the most satisfying answers! 
Hey, lekhak, what about you? How would you define love?
Well, I am still figuring it out. Maybe love is undefined, like it should be. For me, it must come raw. Jaise tapti dhoop bhari ek roz mein chaanv ka milna ya phir jaise station par bohot intezaar ke baad aakhri train ko apni aur aate dekhna. Jaise yun hi daraaz se arso purana koi nazrane ka milna. Jaise…(Arey writer sahiba, your true love quote seems like an essay..kabhi fursat mein iss conversation ko aage badhayenge. For now, let's continue with the blog!)
Love has been defined differently by people. It has evolved through generations. Its meaning for you might have a changed sight than what it would be for your parents or grandparents. It might be taken and understood ek alag andaaz mein by a married couple, a gay couple, or teenage lovebirds. Love may come to you as a sweet gesture of gifting or as a thoughtful hand of help or simply a warm hug. In whichever form it may come, it's always, always beautiful and comforting! 
 Hum maante hai ke har sadi ka pyaar, rehta hai sada bahaar. Kuch aise hi pyaar bhare naghmein we have covered in our video - LOVE OF ALL KINDS, where people in love have shared inspiring tales of how cupid played its part in making them match. Watch it, maybe you can get the needed push! (don't worry, not gonna spill any beans here Just being your backpack so that you take the right raasta, if you know what we mean!)
"I found a love for me…you look perfect tonight"
Feeling like singing this song to the one you want to hold hands and dance with all your life? Then the time right now is "Perfect"! We are marching towards the 'Season of Love' and the vibe around is a hint that you must spread your wings and fly in the direction that takes you towards them. Hey, don't go just like that. Khali haath aur adhoori baat, both don't go well! Take with you gifts, we mean Indigifts (what a push lekhak!) that would make them jump out of the bed and…then you know! (*wink wink*) 
Aur koi confusion ho regarding what to give to your valentine forever, then don't worry. Just settle down, we have gotten all things sorted for you. Whether it's hug day, rose day, propose day, or kiss day, celebrate each of them romantically with our 7 in 1 Valentine Week Kit. you won't believe us until you get one, that is how stress-free this gift kit can make you! Hey, since you will be visiting our online gallery, we say you must check our VALENTINE GIFTING COLLECTION, that's newly launched and is blowing people's minds out there! (lekhak, why exaggerate when they can experience it. Waise you are right only!)
Arey, lekhah, zara side aana. Make space for Choti, she needs to say something.  
 Hi, Mera naam hai Choti aur mein hu apki dost, gifting guide, and Indigifts store ki host. I'm here to make your gifting experience all easy-breezy. 
So, at Indigifts, we have an amazing range of gifts for every bond. For your friends or siblings, for your grandparents or in-laws, whether it's Diwali or Christmas, Valentine or Mother's Day, whether it's birthdays or anniversaries, being India's best gifting brand, you will all your gifting needs getting sorted here. All you have to do is just follow my lead to get your needs sorted! 
Now, before the lekhak pokes me again, I gotta go, but jate jate I will repeat again Indigifts pe milega sab kuch aur usse bhi zyada, check it out! 
Gif Courtesy - GIFER 
A good relationship is like karaoke. You both don't know how to sing and you both are under pressure, but you still wanna do it, cuz hey, being weird together is love! 
You know, we have captured this quirkiness of love bonds crazily in our LOVE QUOTE BOOK. Filled with all quotes cute, lovable, and quirky, this ebook is what you need to add that needed spice, sweetness, and sour in your relationship.
 Well, this definitely brings us to the end of the blog but for you, it could be the beginning. Beginning of a new chapter! So, roll up your sleeves, it may be cold outside and you wouldn't want to leave your bed (yeah lekhah, apni dinchariya na sunao!) lekin woh ishq hi kya jiske liye saat samandar na paar kar pao! (tum aur tumhara bollywood melodrama, writer sahiba!)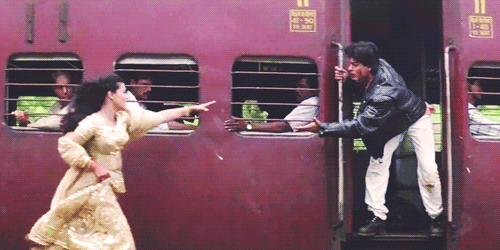 Gif Courtesy - ScoopWhoop
Toh jao Anjali (and Rahul too), jee lo apni zindagi. Kardo pyaar ka izhaar, before they leave you at the station and get on the train..go go! 
GIFTS LE JANA MAT BHULNA!