Which F.R.I.E.N.D.S. Character Are You?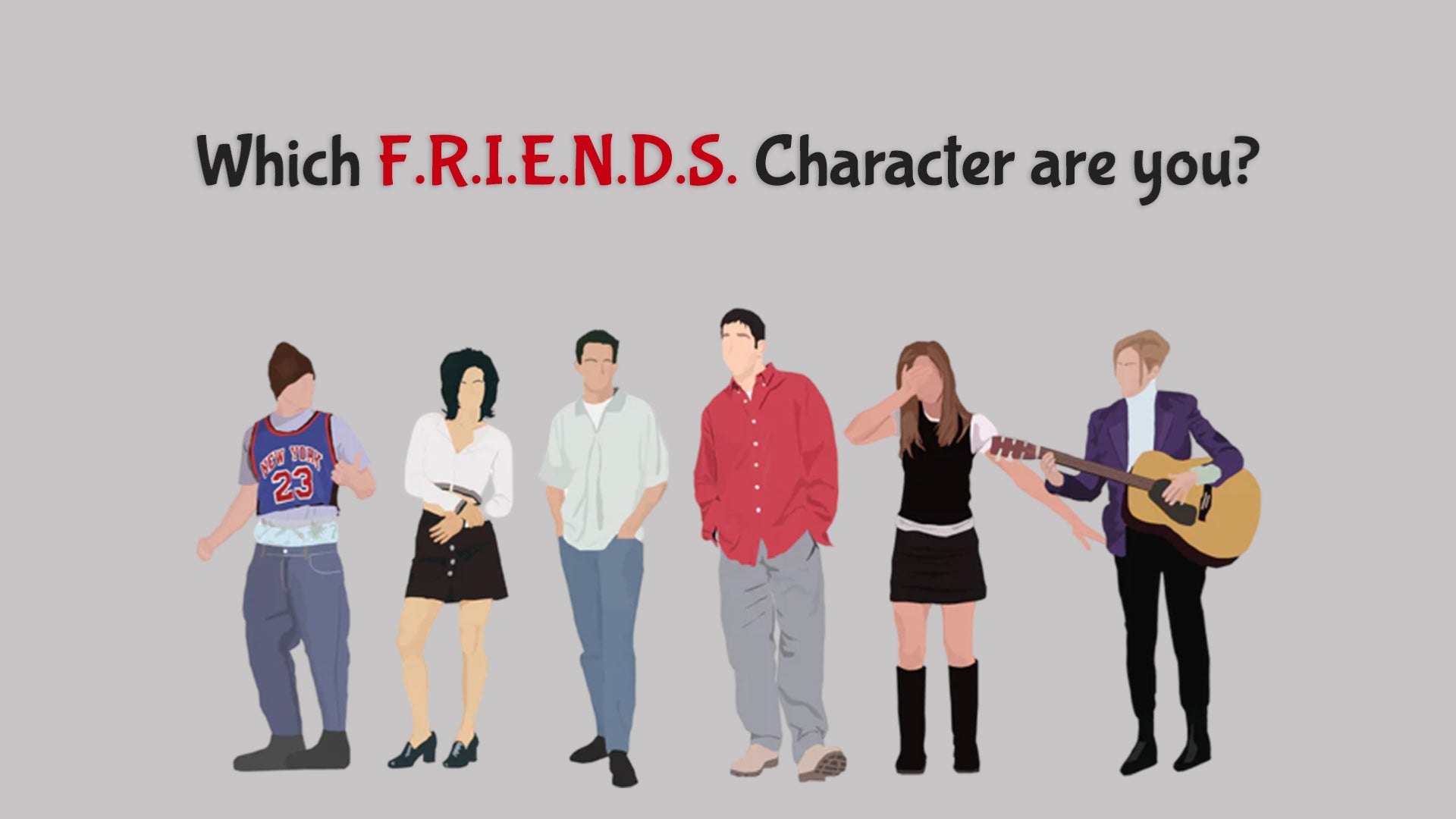 In today's world, funny sitcoms and shows attract us a lot. You can find that "filmy drama" in your group too. If your friends are too filmy and you are constantly reminded of a movie or series character whenever you see them, then congratulations! You are never going to be bored and sad in such a group.
Since its debut on TV in the 1990s, "Friends" hasn't stopped making us giggle. Together, this wild gang go through unusual situations, fall in love, mature, and make a lot of mistakes, learn from it and live with a full heart. 
Are your friends more like Monica, Chandler, Ross, Joey, Phoebe, or Rachel? Which character from 'Friends' are your 'friends'?  We will be seeing all the characters one by one and let's see if the character matches your friend's personality.
1)
Chandler
Chandler is the breakout character from Friends. Having made an impression right from the opening moments of the show. His self-loathing sarcasm, witty nature, and tendency to embarrass himself were unparalleled. Yet, Chandler was also willing to grow, easily being the character who developed the most maturity.
Do you have any traits like this? If this is the case, then do order an eye mask and chill for some time. The best quality eye mask at Indigifts is made of the softest material and is very delicate on the skin.
2)
Joey
Joey was the ideal buddy someone could have, and among all the Friends characters, he had the biggest heart. Joey was the ideal friend because of his ravenous appetite, attractive appearance, and charming behavior. He was also the kind of person anyone could rely on because he treated his friends like family.
 A lot of people laughed at Joey's less-than-intelligent moments, from his horrendously bad performance on Pyramid to the gibberish he said when he thought he had mastered French. He was simply a cute person to be around, and Friends fans adored him no matter what. 
 You should thank your friend through a small gesture of gratitude if you have that Joey in your group. Express your love for them by gifting them the best friend's coffee mug from Indigifts. 
3)
Phoebe
Fans of quirky characters like Phoebe will never run out of things to appreciate. She had the craziest notions, including that her mother was a cat in a previous life and that Santa Claus was real, but she carried them with such innocence that it was difficult not to like her.
Phoebe was one of the most lovable characters in Friends, despite the fact that she did become meaner as the series progressed. Phoebe was the only character who never received a plot-heavy arc, thus her carefree attitude and drama-free demeanor made her the go-to character for fans in the later seasons. 
Till then, if you remember any of your friends with these personality traits, then try to give them something from the Indigifts store which can make them smile and carry their tensions off. As quirky as phoebe's character is, Indigifts has a range of quirky cushion according to each mood of your friend. 
4)
Monika
Before she developed into a much more aggressive or, as Janine described it, "quite loud for such a small person," character, Monica was once a fairly nondescript girl. However, Monica's excessive competition and aggressive demeanor made her someone who simply couldn't be ignored, which is what made her so endearing.
Because of her overwhelming desire to clean whatever she saw, Monica is the figure who first made cleaning seem cool. The fact that Monica had a nurturing attitude and looked out for everyone around her because it made her happy made her comfortable with her friends and followers as well. 
If we have a friend like Monika very rarely and thus Thanksgiving gifts are their right which we must not steal. Let's give them the best suitable gift from Indigifts. A whole range of friend gifts are waiting for you in the above sections.
5) Ross
Ross Geller, or Dr. Ross Geller is as amusing as Chandler or any other character in FRIENDS...He's geeky and nerdy, yet masculine and adorable. He is attractive and naive, and his perception of things may be mature at times and immature at others. And also, the most gullible Paleontologist we have ever seen!  



6) Rachel
Rachel Green is the character that has arguably changed the most during the series. Rachel, unlike the other five, is new to the group in the early episodes. She's just escaped her wedding; she's spoiled, resentful, and we should agree, the most ah-so-beautiful person in the gang.
 Rachel teaches us that your friends have the power to transform you, just surround yourself with positive people. Oh and to make all this happen you need a pleasant gift from Indigifts to make your friend's day. Get a lovely quoted cushion from Indigifts now.
You can make your friendship stronger by expressing it through the various product gift ranges of Indigifts which will always remain in your best friend's heart as a token of love. A whole cool collection of 'Dostology series' is available in the Indigifts' shop for the 'F.R.I.E.N.D.S.' of your life. Check the categories mentioned above and grab a gift kit now! 
Read Also- You Are The Joey To My Chandler